Picking up a book to sit and read while I had a second to breath (Munch was taking one of his rare naps) I plopped heavily onto my couch and opened the front flap of the book. I relished in the newness of the title and traced my hand along the crisp pages.
And BOOM guilt filled me. Because I was cheating on the 5 other books I had half started! I have this problem you see of starting to many books and then leaving some on the back burner, only to be looked at weeks later when I have already completed and started a few others. This isn't because I BUY ALL THE BOOKS . But because I purchase a book for my monthly book club, and then reserve a book from the online library that I have been eying for a while (that apparently won't be available for weeks). All of a sudden I find myself with new 2 audio books (I reserve for car rides and walks), one book on my phone (for when I am laying in bed next to my sleeping husband and don't want to bother him with the lights) and then my author friends grant me the privilege of reading one of their beautiful creations! can you say WOWZA? To top it all off… that ONE book I have been searching for for ages happens to only $.30 at the used bookstore. TADA! Giant stack of books.
The guilt is so very real, and so is the urge to just snuggle in and READ THEM ALL. But that isn't how real life works.
Lets face it, its discombobulating if you read 5 books all of varying topics at the same time. You are destined to prefer one over the other, and mix and confuse story plots and character arch, It just will not work.
The more I ponder my book dilemma, The more I realize that this in fact is a parallel to my life on all fronts. When it comes to crafts or projects, I keep piling them on without completing any fully. Or tidying, dishes, laundry (the never ending cycle!) appointments, engagements, wife life, mom life and ME TIME!.. They provide the exact same feeling of happiness, but cannot be done all stacked up. By stacking and stacking, I have already begun setting myself up for stressful failure (unless I just stop doing laundry and dishes and just read the rest of my life… Hmm, is that an option?)
My friends have recently made an amazing discovery, and I am going to be jumping on the bandwagon. They are reading (ONE MORE BOOK TO ADD TO THE PILE) a book Called "The Life-Changing Magic of Tidying up: The Japanese Art of Decluttering and Organization" By Marie Kondo and have said that it is not just a book, but a life changing event!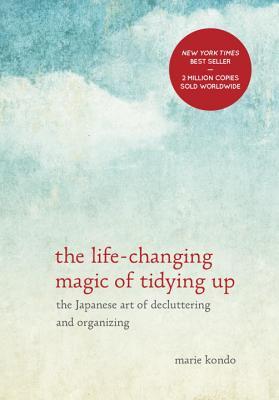 And of course, I am a bandwagon Junkie (Go Twilight #teamedward) that I looked into this book immediately, and found that THIS just might be my key to a more tidy life. Kondo believes that Tidying is not just about decluttering your living space, but also about decluttering and freeing your mind. By doing so, you are forced to face your feelings on that specific object you're cleaning and are able to make the decision to let it go, or to keep it because it serves a true and positive purpose in your home. By turning your entire life into an organized, less cluttered and peaceful version of itself, you are also doing the same thing within yourself JUST by discarding all items that do not give you a feeling of happiness.
I have just started the book– But already am feeling the urge to declutter and clean (which is second nature to me anyway.. thanks mom!) But I want to on such a deeper level than have ever done before. This is not just putting away unused clothing. This is purging and thanking everything you choose to discard one by one, letting its memories engulf you, then letting them all go. I want to discard all the items I have so carefully hoarded over the years, all because I realized they don't bring happiness to my life RIGHT NOW. And what is the point of keeping it, if its purpose has already been served?
I will say I have my trepidation.. what if I end up throwing out everything.. then have to wear a plastic bag for the next few months until I can build up a wardrobe again? What do I do with sentimental items that do not serve a purpose but make me happy? How will I feel if everything from my past is thrown out, and all I have left are dozens of trash bags filled up and given away to complete strangers who don't know the story behind this awesome geeky t-shirt from high school?
That is the point, isn't it?
Well.. I guess we will find out! … Here I go!
❤ Mama Cat
Stay tuned for more posts on my adventures in going #KonMari
Feel free to check out this book and read it along with me! It can be purchased here!